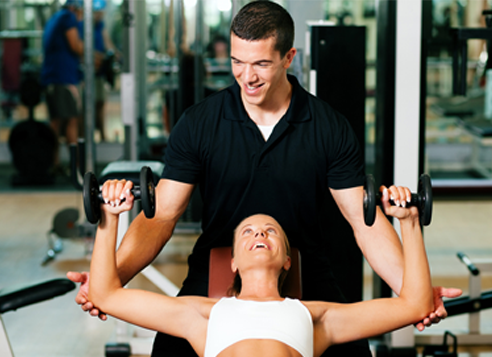 Our Certified Personal Trainers can help you to launch – and sustain – a smart exercise program, help move you beyond a stubborn plateau, break out of a fitness rut or simply re-energize your workout, and do all of it safely, with faster results. Personal Training can help you:
Develop and reach personal fitness goals
Change body composition
Learn proper and safe technique on all exercises
Increase strength, flexibility, and conditioning
Boost your performance in your favorite sport
Use the newest training techniques
Get ready for a big event
Stay independent and mobile in your golden years
Pre and post-natal care
Assistance post physical therapy/injury
Maintain independence, mobility and flexibility even in your golden years
Look better and feel better!
Meet Our Fitness Coaches – Click Here!
"I'm a 30 year- old former fashion model. I used to be fit and feel and look great. I used to love gyms and classes. However, I started a full-time career as a PR professional where I spent most of my time working at my computer or had meetings and events that sometimes lasted till late hours. I was always too tired to go to the gym. Also, nothing seemed to get me motivated and excited: spinning, yoga, weight lifting, step. So I decided to try TotalBodyFitNYC. My trainer Abigail who tailored an intense boot-camp style workout routine specially for me was able to really motivate me to try very hard. She knew I'd try to negotiate and whine. But Abbie is a professional and knew what kind of exercise won't hurt me and make me even stranger instead. I'm really happy to have met Abbie and I'm looking forward to work with her in the future." – Petra Kas, Personal Training Client

Ready to Get Started? Fill Out the Form Below, and a Trainer will be in Contact:
Personal Training Intake Form – Click Here!
Personal Training Rates
Sessions may be purchased individually or in bulk with additional savings. Schedule them as you see fit, depending on your own personal goals and timeline. To book a package, please select from the options below or contact info@totalbodyfitnyc.com OR call 646-481-0TBF (0823).
---
---
---
---
---
---
---
Changing health behaviors for the better is one of the most difficult, yet important, things most of us will ever do. Give yourself every opportunity for success with a boost from one of our personal trainers. Our "Jump Start" Personal Training package is designed to give you the skills, tools and support you need to get over the initial hurdle….once the healthy habits are formed you are on your way.
Get A Jump Start on Fitness
Your financial information is safe with us. For more information on our secure payments system, click here.
Policies
You can schedule an appointment for personal training by contacting TotalBodyFit by phone on 646-481-0TBF (0823) or by email at info@totalbodyfitnyc.com.
Sessions are non-transferable and non-refundable.
24-hour notice of cancellation is required to avoid being charged for the session
Sessions expire 3-18 months from the date of purchase based on the type of personal training package purchased. The following is a list of personal training packages and the corresponding terms of expiration:
Single session – 3 months
4 Pack – 6 months
12 Pack – 12 months
24 Pack – 18 months